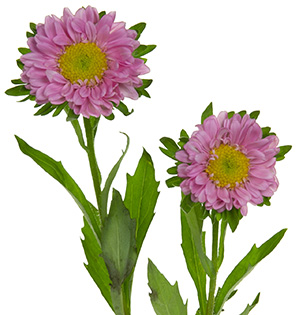 Common Names: Aster, Monte Cassino, Michaelmas Daisy
Botanical names: Aster, (AS-ter)
Availability: July through December
Storage temperatures: 36 - 38 degrees Fahrenheit
Description: Numerous small daisy like flowers in double or single types.
Color: White, purple, yellow and pink. Generally, all have yellow centers.
Botanical facts: Numerous species and cultivars have been grouped into this one genus of aster. The name comes for the Latin word for star, Aster.
Design notes: Asters make great fillers in arrangements and bouquets.
Purchasing hints: Purchase when first few flowers have opened. Avoid flowers with yellowing leaves.
Conditioning: Remove all of the foliage on the stem as well as the side laterals that will be below the water level. Cut with a sharp knife. Hydrate in a solution of water and commercial floral preservative / floral food for two hours before storage or usage.
Additional notes: Asters last well. However, initial hydration and conditioning is very important. Make sure to remove the many small leaves that will be below the waterline as they degrade very quickly.