Easy Elevated Centerpiece
As florists, we'll be doing more weddings this year than ever before, and luxurious garden roses are still in high demand. In this Flower School How-To Video Leanne shares an elevated centerpiece design with golden accents, featuring an assortment of amazing garden roses from GardenRosesDirect.com. Enjoy!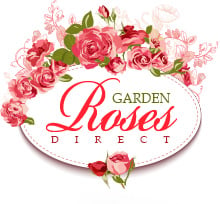 Video Transcription
With the wedding season promising more weddings than ever before, means florists are going to be making more centerpieces than ever before. At Floral Design Institute, we're going to be doing lots of inspiration using several different garden roses, all getting ready for the wedding season. Today, an elevated garden rose centerpiece.
The base of the design, just a candlestick that makes it very easy to elevate. For holding the flowers, the Grande Iglu. And that's easy to attach. Just using a single glue strip, place it right to the candlestick. And then right down to the Iglu to hold that in place. The roses, all of them from GardenRosesDirect.com, and they are amazing. The Princess Miyuki, the larger one, oh, so fragrant. And the smaller, Blanche spray rose. And you can see one a little more ivory, one a little more green. So it'll give me great contrast.
To make it easy to conceal your mechanics, start with a bit of base foliage. An aspidistra leaf tucked into the foam and then wrapped around. Securing it in place with a single greening pin helps cover oh so much. Then you can go back with other foliage. Maybe a bit of ruscus, letting it be a little bit longer. And a fatsia leaf. Whatever foliage you like the most, just insert it through the aspidistra and add it to the design.
As I place the flowers, I think in layers so that I get some depth to the design. So some very, very short, just down close, tucked low, making sure they're into the water source. And then others a little taller so that they create layers over the top. And of course, since it's a centerpiece, bringing them around to the back side, again, some short and some long. Adding in the spray rose. You can separate them using some of the larger as individuals and then a whole cluster, maybe taking another one off and then letting the cluster come out a little longer. Again, tucking them in deeply enough so that they drink well and they're sturdy for transport. Then turning and finishing all the way around.
To finish, detailing with a little bit of gold to increase the unity, tying it in with a candlestick. So I've grabbed some eucalyptus, gilded it gold so that it will add that color, and a little bit of glittery artificial. Isn't that beautiful? I can cut that down. Place that in. It's just a matter of taking a few stems, extending, bringing that color throughout, and enhancing the finished design.
The recipe. Oh, so easy. I used one aspidistra leaf, two fatsia leaves, then five stems of the ruscus, and a bit of gold eucalyptus and a bit of faux gold foliage. The roses, all of them from GardenRosesDirect.com. I used four of the Blanche spray rose, and seven of the beautiful Princess Miyuki.
Garden roses add a touch of luxury to every arrangement. Elevating it makes it even extra special. You'll find more creative inspiration for centerpieces, bouquets and more at our website, Flower School .com. If you have questions, you can reach us through there. Now it's your turn. Find a candlestick, gather beautiful garden roses, create a design. Be sure to post it on social media, hashtag Floral Design Institute, because I want to see, and everyone wants to see what you do as you do something you love.