Celebrating Design Styles
I am loving, loving, loving the new generation of floral designers. Risk-takers, unconcerned about convention and willing to explore new styles, they are leading the floral industry into a new and wonderful era of floral design. Much as Martha Stewart opened the consumer's eyes to a heightened appreciation and acceptance of flowers in their everyday lives in the early 1980's, these new floral designers who often refer to themselves as "Makers" rather than "Florists" are making flowers "sexy" again. One of the leaders among this new group of designers is Holly Heider Chapple. She has resurrected and become a true master of the design style created in the early 20th century by one of my heroes, Constance Spry (1886 - 1960). Holly, like Constance, without abandoning tradition, is practicing and encouraging originality in floral design.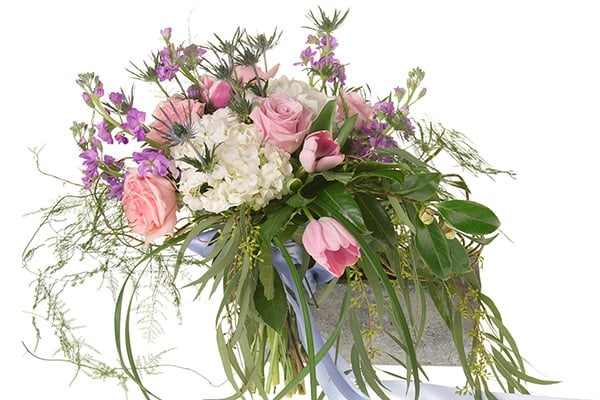 You know that you are becoming a senior floral designer when you observe design styles celebrated, and techniques practiced generations ago resurfacing in a new generation. This new design style referred to as "garden style" or "bespoke garden style" features one-of-a-kind designs built in armatures or on pin-holders without the use of floral foam. The designs are wild and flowing, featuring branches, vines, garden flowers, large blossoms and highly textural elements. In 1985 I had the privilege of sharing the stage at a floral show with two wonderful designers, (Dorothy Schroeder Newell and Leonard Saylor) who were active floral designers in the 20's, 30's and 40's. We presented and demonstrated design techniques and floral mechanics used by designers before the development of floral foam. How exciting for me to see these very same techniques in use once again. The Summer Garden Bridal Bouquet includes the floral netting armature updated for today's bride.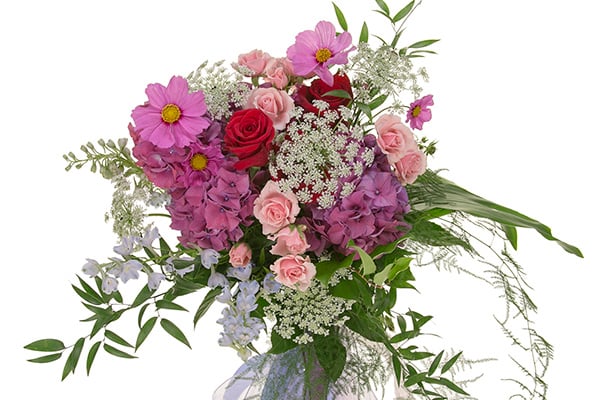 How I wish that Dorothy and Leonard were alive today to see the fabulous design styles being created by this new generation of florists; Holly Heider Chapple, Lori Losinger, Amy Merrick, Liza Lubell, Amy Cason, Alicia Schwede, Amy Osaba, Franciose Weeks, Susan McCleary, Shane Parker Meehan, Jeri Barr, Ariella Chezar and hundreds of other innovative new designers. Take a moment and search these names on Instagram. I know you will be inspired by the creative interpretations of floral design. More than a floral designer, Constance Spry was a courageous design pioneer during the fussy and rule-bound days of the Victorian era. She was an inspiration for thousands of floral designers. "I do feel so strongly," she said, "that flowers should be a medium of self-expression for everyone." Compared with her designs, many modern floral designs are much simpler and less bound to traditional precepts. Still, it was she who made it possible for the new generation to flourish. The exterior armature of the Spring Garden Bouquet is a wonderful way to utilize short stem and fragile blossoms in a large floral design.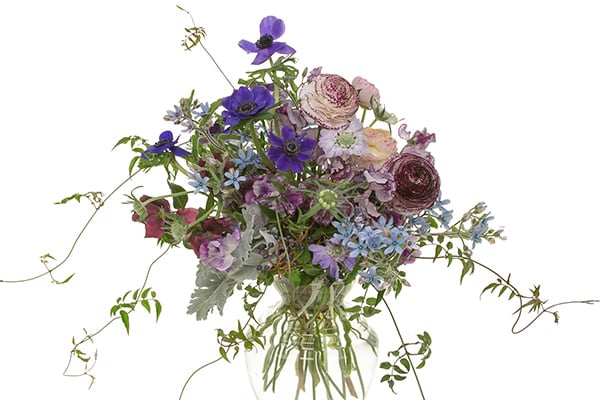 Update: Recently, the Smithers Oasis company released a new, contemporary version of the utilitarian staple, floral netting. Metallics – gold, silver, copper!!! Exciting times in the flower world. Even after all these years, a new product can make me swoon. I'm sure you will see this used in many future videos. I can only imagine how excited Constance would be.