Poppy's Garden, a Graduate's Story
Here's the Whole Story..............
I posted this arrangement on our Instagram story over the weekend and told you all I would explain it later. This arrangement is definitely different than any other arrangement you've ever seen me post, because it has special meaning. I made this arrangement for my Meme, for what would have been my Meme & Papa's 67th wedding anniversary. My Papa passed away three years ago and it has left a big hole in our family ever since and it definitely made us all find a new normal. Many of you may not know that I named my business after my Papa. Over the last few years of his life I started calling him Poppy, for no particular reason other than it was cute and he was probably the cutest man you could have ever met. I was completely unaware it would take on a whole new meaning one day. I was his only granddaughter and the only one in the family that called him Poppy. So when I decided to turn this floral journey into a career it was natural to incorporate Poppy in the name as a way to honor him. My Papa was a huge part of my life and taught me many lessons. I keep those lessons close in my mind and heart while running my business. He was a part of my everyday life, so being able to carry a piece of him with me in my business every day is comforting.
Ever since I started this growing business of mine, many people have asked me how I got into floral design, why I decided to become a florist, what brought me here, how I chose the name Poppy's Garden, or why I decided to go to floral design school. All those questions are loaded questions I'm always hesitant to answer. Typically I'll say, "Well it's a long story" or "Oh I had a really bad year and wanted to do something that made me happy" or sometimes I'll tell the story in the shortest way possible. So if you're up for a long story I'm going to go ahead and explain it, at least the somewhat short version. I've tried countless times to write this down and sometimes it comes out in bits and pieces, but for whatever reason it never feels quite right or isn't the right time. When I made this arrangement it all came flooding out of me and I had this overwhelming feeling that I was ready to share this story. So here it goes.
The year my Papa passed away I went through a really rough time. It's still painful and I don't know if it will ever stop hurting. 2015 is what I call The Year of Suck. I had to put my dog down unexpectedly on January 2nd. Three weeks later my Papa passed away on January 24th, somewhat unexpectedly. I got laid off from my job on August 1st. I'm not going to lie getting laid off sucked, because going from employed to unemployed out of nowhere always sucks. However, I was probably the easiest person to lay off. I pretty much responded with, "Ok cool, want me to go get my stuff?" Lol! I was not made for an 8 to 5 computer cubicle zombie job. I also went through a really hard time in a relationship which felt like living on a really horrible roller coaster from February to September, and I ultimately had to call off the engagement two and a half months prior to the wedding (yes, the invitations had already gone out). We were in a relationship for 3 years, then got engaged and moved in together. Right after my Papa passed away it was like someone flipped a switch, pulled the curtains back on me and I was engaged to a whole new person. I found myself engaged to a closeted alcoholic with anger issues which fueled verbal abuse that was fired directly at me at any given moment. I moved out of our house on September 1st, the day after I told him I was leaving. Just to be clear, even though calling off the engagement and moving back home was a blessing; it was the icing on top of the suckiest cake of all cakes. It was the point at which I said I'm done and need to take a time out from life. I was emotionally numb and had nothing left to keep myself from completely breaking down. I was already broken down.
I moved back home and luckily I was able to move into my parent's house they had for sale at the time and were no longer living in. It gave me the opportunity to take a break, have alone time, time to be sad, time to reflect, and time to take care of myself. After all of that I had to decide what I wanted to do with my life. I had to start over. I ended up going to therapy, which was one of the best decisions. It gave me the strength to deal with and put closure on everything that had happened that year. I took time to really take a look at what made me happy and what I wanted out of life. As far as what I wanted to do with the rest of my life; I knew I wanted to make a difference in the lives of others, I wanted to create, I wanted every day to be a new day with new challenges and surprises, I wanted to be around my family, surround myself with creative and like-minded people, and most of all I wanted to have fun.
Somehow through the work of God and probably my Papa I was lead to floral design, and by lead I mean it might as well have slapped me square in the face. During the time after I called off my engagement, a family member of mine got engaged. He and his fiance wanted me to do the wedding flowers and they decided they wanted to get married in 8 weeks, which ended up falling on the weekend I was supposed to be getting married. At first when I thought about it I was hesitant. I thought it would be too painful to be anywhere near a wedding without thinking about what would've been my wedding weekend. In fact, I had already planned to go away for the weekend with some girlfriends to keep my mind off of things. After thinking about it, I decided that I wanted to take what would've been a bad day for me and turn it into a wonderful day for someone else and surround myself with my family that had been there for me through all of it. What's even weirder about deciding to do the wedding is that the flowers she picked for her wedding were the exact same Pinterest pictures I had pinned for my wedding. I took that as a sign that I needed to look further into this whole floral design thing.
Side note: Want to hear something even crazier? When I look back how everything fell into place I can't help but look at all the signs from God or my Papa, or both. The day my Papa passed away was the day I was scheduled to meet with potential wedding florists for my wedding. I was on my way to meet my mom for lunch before we went to the meetings when my mom called me to say my Papa was being taken to the hospital. Why would that happen? Of all days, why? Maybe it's just a coincidence, but when I look at all the signs pointing toward floral design it's really hard to ignore.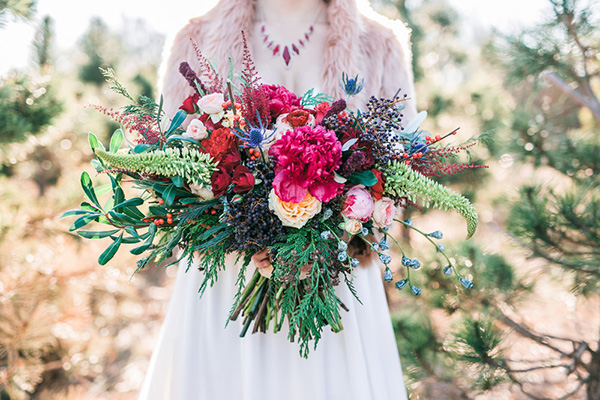 While preparing for their wedding I discovered the Floral Design Institute while watching a bunch of YouTube videos. I never knew there was such a thing. I knew there were flower classes, but never dreamed there was a flower school. I had always done flowers for friends and family as a hobby. I never considered turning it into a career. In my mind I thought you don't just become a florist, it's something that's passed down to you. Like your mom was a florist or grandmother, and you learn from them. It never crossed my mind it was something I could do for the rest of my life. Now I realize it's not something that is passed down to you, it's a God given talent and you have to choose to nurture that talent. You can either let it be something you do for fun or you can chase it and make something of it.
So after their wedding I made the decision I wanted to go to the Floral Design Institute. Here's why I made the decision to go to floral design school. At the time I was 29 years old, and yes I know 29 is not old by any means. But at that time I had bounced around from job to job that never seemed to fit and I never finished college. I knew I could try to get a job at a flower shop and learn as much as I possibly could, but that takes years if someone is willing to teach you. I knew if I did this I wanted to do it all the way. I wanted to own my own business. I wanted to succeed at something. I wanted to actually know what I was doing. I wanted to speed up that learning process as fast as I possibly could. I wanted to learn the tools and fundamentals in order to be successful. One thing I know about myself is that I have a hard time asking for help. I don't like not knowing how to do something. It gives me anxiety. I like to know how to figure something out on my own if I hit an obstacle. I knew that if I tried to learn all of this by trial and error I was going to fail and I couldn't take another failure in life. I felt like this was my last chance to do something with my life. I was all in and if I failed at this then I would suck it up and work a 9 to 5 office job for the rest of my life. But who wants to live their life like that, just going through it day by day not doing what you are meant to do or at least never trying.
So I got up enough nerve to talk to my parents about going off to Portland, OR to go to floral design school. It was definitely mentioned several times beforehand in passing, but this was going to be the serious family sit-down conversation. If you know my parents at all you know they are planners, especially my mother. This was no ordinary, "Hey mom and dad I would like to go do XYZ." Oh no, when there is a serious topic on the table with my parents I have to be prepared for every possible question and have researched anything I can possibly think would be a concern of theirs. There was pretty much a full on PowerPoint presentation. No lie! There was a spread sheet compiled of costs of the classes, living expenses and other possible expenses, a travel plan with researched hotels along my travel route that would allow dogs, crime reports for Portland versus Muskogee and Tulsa crime reports to show a comparison, outline of where I would possibly be living (with pre-approved neighborhoods my school recommended) to ensure it was close enough that I could get wherever I needed to go on my mo-ped, a packing list, a safety plan, a list of things I still needed to check on, my plans for once I finished school, etc. I mean anything I could possibly think of. So when I say this was no ordinary family discussion, it definitely was not. After the first meeting my Dad pretty much said, "No, and hell no." I think my Dad thought, why on earth would I send my only daughter to travel across country by herself, where she is out of my reach to help her if she's in trouble, for a little over three months with her puppy and a mo-ped. I'm sure to a Dad that seems like the worst idea ever. He had also been to Portland and had a whole different perspective on it than I did. So after they said no I let it settle for a few weeks, also because I couldn't talk about it without crying.
In the meantime one of my friends ended up getting engaged on my birthday. Another sign, I had gotten engaged on my birthday the year before that. So that sad day was now replaced with my friend's happy day. Planning her wedding kept me busy, plus I worked a few odd jobs, and continued to go to therapy to work on myself. So after a few weeks went by I did more research on other schools and came to the conclusion that none of the other schools measured up to the Floral Design Institute. I made up my mind this was it, it had to be, and I was going to give it another go. So I went back to my parents with more research and we made the decision I would go to the Floral Design Institute to start class on April 11th, 2016.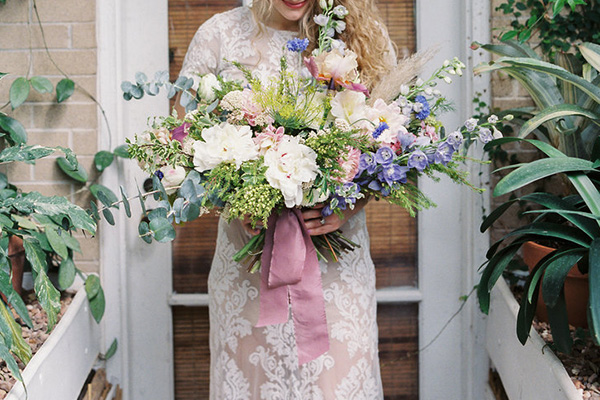 I did the flowers for my friend's wedding on April 1st and left that following Wednesday for Portland. I was set to arrive in Portland on April 9th, on what would've been my Papa's birthday. It was also the day of the Muskogee Chili Cook-off, which doesn't seem like a big deal, but that was something my Papa and I always did together and the first Chili Cook-off I had missed in I don't know how long.
Portland is a whole story in itself, so I'm going to keep this short and share more about Portland another time. I spent three months in Portland. My schedule was pretty busy with school Monday thru Friday 8:30-5:00 with homework, written quizzes and exams, and floral evaluations. It wasn't all fun and games, it was fun, but I'm sure you're all imagining I was just playing with flowers all day every day. That was not the case. By the time Friday would come around I would be exhausted. In my downtime I walked Millie 2-3 times a day around our neighborhood, explored Portland a little, ate a ton of amazing food (hence the walks 2-3 times a day), and just had time alone. You know how people go study abroad and find themselves, well this was me studying "abroad" and finding myself. Going to the FDI and spending time in Portland by myself was the best thing I think I could've ever done.
When I got back from Portland I found a job at a flower shop and spent the next year working and growing my wedding business. In May I got the opportunity to open my own flower shop in downtown Muskogee. After countless hours of hard work and help from my family and friends, we opened our doors in July.
A lot of people ask me about my experience at the Floral Design Institute and if I recommend it. Do I think you have to go to a fancy school to be a floral designer? No, I don't think you have to. Is it going to jump start your career in the right direction? Yes absolutely. Is it going to teach you the proper techniques and mechanics? Yes absolutely. Is it going to give you the tools to figure things out on your own in the correct way? Yes absolutely. Do I think an educated floral designer is better than a self-taught or on-the-job trained designer? No, absolutely not. I think each person is different and each designer comes to the table with their own talents, creativity, and willingness to learn. Do I think proper mechanics will make or break you? Yes, without a shadow of a doubt. In today's Pinterest & Instagram driven world I have noticed a lot of the same trend driven floral designs. One thing the FDI gave me is the education and techniques to be versatile with my designs and be able to grow and change with the trends or to break away from them. Without that education, I wouldn't have the knowledge to be able to achieve any design style I set my mind to. The FDI taught me to learn the rules, and Elements & Principles of design. Once you have that foundation and know the rules, then go ahead and break the rules, because you can. Do I think I'm better than another floral designer because I went to school? No, I don't think that automatically makes me better. I'm not the best. I'll never be the best floral designer in the world or Oklahoma for that matter, but who wants to be the best. There's nowhere to go from there. I want to always be learning and always be pushing myself further.
When I'm at the shop or when I'm rushing around working on weddings I've noticed I've gotten in a rut and sometimes don't have a lot of time to just play with flowers as much as I used to. Not that I'm not happy with the designs I'm doing on a daily basis or that they aren't beautiful, that's not the case at all. But as I creative person I find that I can get bored from time to time and sometimes need to take time to rejuvenate that creativity. It's easy to get in a zone or a routine now that I'm a full time florist and business owner. Sometimes I have to take a step back and just play flowers again, experiment and try new things.
My Aunt and Uncle were in town over the weekend and stopped by my shop. It was a really busy day; I had to wake up around 5:45 to get up and around and off to Tulsa to pick up plants and be back around 9:30 to start on the Daddy Daughter Dance orders and open the shop. It was kind of a normal day, but a lot of foot traffic and orders and we were just busy. My Uncle asked if I would make Meme a flower arrangement for my Meme & Papa's anniversary, so I said sure of course. Well by the end of the day I was exhausted and honestly was kind of blah about making another arrangement at the end of the day. Which sounds horrible, but sometimes I hit a block and just have to step away and come back to it. I decided to take a break for a little bit to hang out with my friends next door.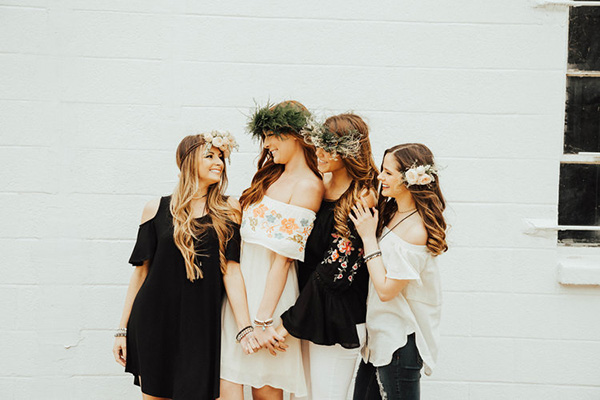 When I went back to the arrangement I decided I wanted to make her something unlike I'd ever brought home before. Since I gravitate to garden style designs I never get to do compact or somewhat modern designs. So I got this vision in my head and I knew I wanted to incorporate these amazing poppies I had in my cooler. For some reason I wouldn't use those poppies, they had been in there all week and I wouldn't touch them. Like I wanted to cherish and save them. Now I know why, they had a special purpose I didn't even know about. I knew I was going to do a compact design, not a boring pave bowl and not really modern, but just different. I wanted to use the poppies but I didn't want to hide the stems of poppies. Poppies have the most amazing stems. First of all, the stems are so fuzzy. Secondly, they are such a unique flower, not one stem of a poppy is the same as the next. They all bend and curve in the most whimsical, unexpected, and uncontrolled way. Plus when a poppy decides to open it is so dramatic. One minute you look at them and they are still in their pods, then you look back up and it has busted out with its bright crinkly petals. Other times they slow play you and you get to watch them ever so carefully open out of their pods. It really is a wonder. So I decided to highlight the poppies so they would be the flowers dancing on top of the arrangement. I was only planning to add a few stems but then I just kept going back for more and ended up with eleven. Which is funny because that is my lucky number, and wasn't even something I meant to do. The reason this design features unopened peonies and poppies is because my story isn't finished yet. My story is going to continue to grow and change. Since this arrangement was supposed to symbolize my Papa, I thought poppies dancing on top of the arrangement were the perfect touch because he was always watching over us when he was here and now he is watching over us from heaven.
People ask me how I come up with my designs. Honestly, I get visions in my head almost like an incomplete painting. Sometimes they turn out like I want and sometimes they take on a completely different shape than what I imagined. Sometimes they have a purpose, sometimes it's just for fun, sometimes it's what I threw together in 15 minutes, sometimes I'll spend an hour or more on a design, sometimes they're simple, sometimes they're intricate, sometimes I get stuck on a color palette or a certain flower in the cooler; there are a multitude of factors. My designs are whatever I'm feeling at any particular time and they're always different. I don't do paint by number designs, because I don't live my life by coloring inside the lines. I can whole heartedly say that not one of my floral designs is ever the exact same as the ones I made before it. I create custom, unique, and artfully arranged floral designs. In a way I guess that breaks the rules, but being creative is about breaking the rules and telling a story through that creativity. That is what makes me who I am and I feel like that is what sets my flower shop apart from others. You can visit Meagan at https://www.poppys-garden.com/about/