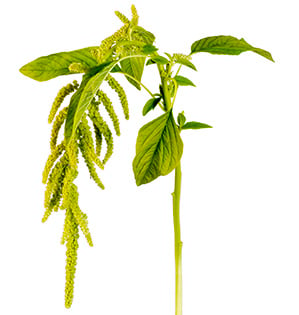 Common Names: Amaranthus, Amaranth, Prince's Feather, Love Lies Bleeding, Cat Tail, Tassel Feather, and Summer Poinsettia
Botanical names: Amaranthus, (am-a-RAN-thus)
Availability: Summer and autumn
Storage temperatures: 36 - 38 degrees Fahrenheit
Description: Erect and brush-like flower racemes with very long trailing spikes.
Color: Red, shades of red, green and cream
Botanical facts: Amaranthus is a popular and easy to grow garden flower. It is abundant in the late summer Farmer's Markets.
Design notes: Hanging Amaranthus, a variety with drooping slender spikes up to 18 inches long, adds dramatic interest to floral designs and is very popular among floral designers. Very good for usage in Hogarth Curve, Cascade and Waterfall designs.
Purchasing hints: Purchase when the blooms are open, but still bright, and the foliage is green and turgid.
Conditioning: Cut with a sharp knife. Hydrate in a solution of water and commercial floral preservative / floral food for two hours before storage or usage.