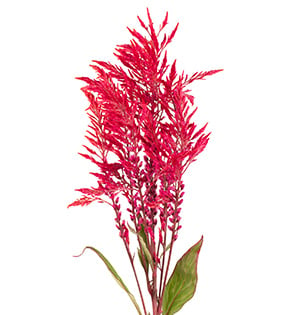 Common Names: Amaranthus, Amaranth, Prince's Feather, Love Lies Bleeding, Cat Tail, Tassel Feather, and Summer Poinsettia
Botanical names: Amaranthus, (am-a-RAN-thus)
Availability: Summer and autumn
Storage temperatures: 36 - 38 degrees Fahrenheit
Description: Erect and brush-like flower racemes.
Color: Red, shades of red, green and cream
Botanical facts: Amaranthus is a popular and easy to grow garden flower. It is abundant in the late summer Farmer's Markets.
Design notes: Red Spike Amaranthus, a variety with upright slender spikes up to 18 inches long, adds dramatic interest to floral designs and is very popular among floral designers.
Purchasing hints: Purchase when the blooms are open, but still bright, and the foliage is green and turgid.
Conditioning: Cut with as sharp knife. Hydrate in a solution of water and commercial floral preservative / floral food for two hours before storage or usage.