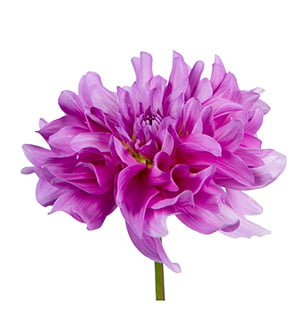 Botanical names: Dahlia, (DAHL-yah)
Availability: July through November
Vase life: 2 to 14 days; varies greatly
Storage temperatures: 36 - 38 degrees Fahrenheit
Description: Dahlias consist of numerous hybrids and cultivars and a wide variety of shapes, textures and sizes, ranging from round to ball shaped, and daisy to pinwheel shaped. Flower types as designated by the American Dahlia Society include: single, anemone, colarette, peony, formal decorative, informal decorative, ball, pompon, incurved cactus, straight cactus, semicactus, miscellaneous.
Color: Dahlias are available in a wide range of colors, shades, tones and tints. Most common are purple, pink, red, yellow, orange and white.
Botanical facts: The dahlias was named after the Swedish botanist Dr. Anders Dahl (1751-1789). Dahlias are native to Mexico, Central America and Colombia and were grown by the Aztecs, who called them cocoxochitl. They used them for ornament and for the edible tuberous roots.
Design notes: Dahlias are a rare and wonderful treat for floral designers looking for different and exotic blossoms. Large blossom flowers add mass and accent. Smaller blossom flowers are excellent fillers.
Purchasing hints: Dahlias are not commonly available on the commercial market due to the difficulty of conditioning and shipping. Normally, dahlias are purchased directly from a grower. Purchase when the blossoms are open and undamaged. The foliage should be turgid and full of water.
Conditioning: While Dahlias are wonderful blossoms, many designers avoid them because they wilt quickly after being harvested. Dahlias can have a long vase life if they are conditioned properly. Remove all foliage that will be below the water line. Cut stem ends with a sharp knife. Add four inches of boiling water to a tall glass cylinder vase, and immediately place the cut stem ends into the hot water. Protect the blossoms from the steam by wrapping a towel around the top of the vase. Allow the Dahlias to set in this hot water vase until the water cools completely. Then move to a solution of water and commercial floral food.
Additional notes: The vase life of Dahlias varies greatly by species and cultivar. Always test the vase life of a new variety before using it in floral design.