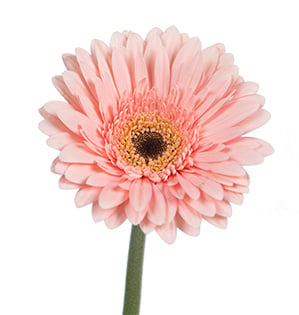 Common Names: Gerbera, Gerbera Daisy, Transvaal Daisy, African Daisy, Barberton Daisy, Veldt Daisy
Botanical names: Gerbera, (GER-be-rah)
Storage temperatures: 36 - 38 degrees Fahrenheit
Description: Daisy-shaped flowers 2 to 5 inches in diameter on long, hollow, leafless stems 12 to 18 inches long. Single, double and multi-petaled varieties are available.
Color: Oranges, reds, pinks, whites, yellows and bi-colors, some with contrasting centers
Botanical facts: Gerbera was named after Traug Gerber (1700s), a German naturalist.
Design notes: A wonderful and colorful flower to use in design, Gerbera blossoms can be a focal point or add mass to a floral design. Gerberas are phototropic and flower heads may turn to face a strong light.
Purchasing hints: Purchase blossoms with at least one row of disk flowers (tubular flowers in the center of the head) are showing pollen. Look for unbruised, fully round heads with unblemished petals on long, straight, upright stems.
Conditioning: Cut stem ends with a sharp knife. Hydrate in a solution of water and commercial floral food for two hours before storage or usage. Gerberas should be suspended by their heads during the hydration process. This can be done by positioning a wire grid over a bucket of solution, then slipping the stems through the grid. The flower heads should rest on the grid and the stems suspend in the water without touching the bottom. This will result in straight stems, and eliminate the need for wiring.
Additional notes: Gerberas are sensitive to fluoride. Fluoridated water can cause petal tip burn. If flowers are properly conditioned, bent necks should not occur. If a bent neck does occur it is probably the result of clogged stems due to dirty vase water. Gerberas are very heavy water drinkers and will last longer in vase water than in floral foam. There are currently over 300 different varieties of Gerbera grown for the floristry market. When the Gerbera was imported into Europe from South Africa in the 19th century, few people would have suspected the flower would become so popular. Gerberas are now widely in demand as cut flowers. With over 300 varieties, Gerberas offer an almost incredibly wide range of colors. Every color except blue is represented. The bright colors automatically make one think of tropical sun. Pink and orange go so well with the feelings evoked by late summer and autumn. There are also Gerberas in pale pastel colors; and those with a more classical taste can choose from a wide range of reds. For the more style-minded, black-and-white contrasts are even represented in a single flower: there are pure white Gerberas with a black heart. A new color trend, coffee and cream, is currently very popular in interior design, and the beige, cream and fleshy pink tones of certain Gerberas coordinate beautifully. Gerberas also have a very trendy shape. Being uncomplicated single flowers on stems, they are entirely in line with the current minimalist, "back-to-basics" trend. Ask any child to draw a flower and nine out of ten will produce a brightly colored daisy-shaped flower - a Gerbera, pure and simple! However, breeders have developed many variants of this basic shape. From serrated petals or frilly petals that look ragged and shredded, to double flowers and extra wide petals. An interesting recent development, as far as the flower's shape is concerned, is the mini-Gerbera. Although the large-headed Gerberas are eye-catching, they may prove somewhat oversized for smaller flower arrangements. The mini-Gerberas are of an ideal size. They not only exude the same bright cheerfulness as their bigger brothers, but also have the warm colors and friendly appearance so welcome in contemporary homes.