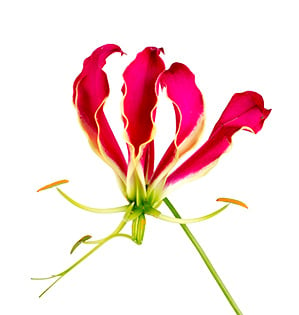 Common Names: Gloriosa, Gloriosa Lily, Glory Lily
Botanical names: Gloriosa, (glow-ree-OH-sah)
Vase life: 4 to 5 days for individual blossoms
Storage temperatures: 36 - 38 degrees Fahrenheit
Description: The gloriosa is a very beautiful and wonderfully unusual blossom with long curled petals that reflex 180 degrees. The gloriosa plant is a climbing vine and a member of the lily family.
Color: Bright crimson petals with white to gold margins and throats
Botanical facts: The name gloriosa is from the Latin word gloriosus meaning glorious.
Design notes: Gloriosa blossoms add interest and color to floral design. Usage is limited by their short stems (6 to 8 inches long). Gloriosa blossoms are very popular in wedding and corsage work.
Purchasing hints: Gloriosa is generally sold as individual blossoms packaged in airtight bags. Occasionally vines 24 to 36 inches are sold with 3 to 5 flowers on the vine. Purchase individual flowers that are fully opened. Purchase vines with turgid foliage and one or two open flowers.
Conditioning: Hold individual blossoms, refrigerated in the air-tight bags in which they are shipped until needed. With vines, remove all foliage that will be below the water line. Cut under water with a sharp knife. Hydrate in a solution of warm water and commercial floral preservative / floral food for two hours before storage or usage.
Additional notes: Gloriosa plant material is toxic. The tubers of the plant are highly toxic.