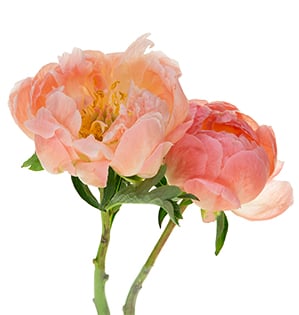 Common Names: Peony, Paeonia
Botanical names: Paeonia, (pee-OH-ne-ah)
Availability: March through July
Storage temperatures: 36 - 38 degrees Fahrenheit
Description: Large, fragrant, terminal blossoms 3 to 8 inches across on stems 12 to 24 inches long.
Color: Red, pink, rose, burgundy and white
Botanical facts: The name is from the Greek name paionia - a reference to Paion, physician to the gods in Greek mythology.
Design notes: These large beautiful blossoms work well alone in a bouquet or in mixed arrangements. Peony blossoms make a excellent focal point. Be sure to allow room in an arrangement for the blossoms to open fully. Peonies are wilt sensitive and last far better in vase of water compared to designing them in floral foam.
Purchasing hints: Purchase stems with fairly tight buds with the calyxes just beginning to open. The buds should be showing well developed color. Once the flowers open the vase life is short.
Conditioning: Remove all foliage that will be below the water line. Cut under water with a sharp knife. Hydrate in a solution of warm water and commercial floral preservative / floral food for two hours before storage or usage. Keep peonies in a cool dark location to retard opening.
Additional notes: Peonies create an atmosphere of understated opulence. They inspire images of grand porcelain bowls of peonies gracing the boudoirs of distinguished ladies in stately homes, mansions and small castles. Peonies have long been cultivated with care in walled gardens and epitomize that full-blown English garden look. Japan, too, loves peonies. Their earliest peony blooms are individually protected against snow by small thatched shelters. Some geishas used to wear special peony colors. The Chinese, too, idolized this flower. We find peony motifs, particularly bright red ones, on Chinese silks and in their exuberant wood-carvings. The common thread is that the flower always denotes luxury and indulgence.