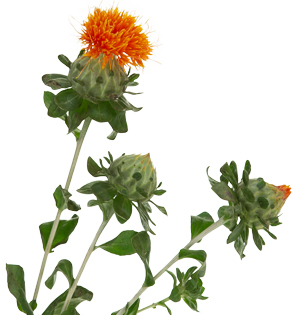 Common Names: Carthamus, Safflower
Botanical names: Carthamus, (CAR-tha-mus)
Availability: June through November
Storage temperatures: 36 - 38 degrees Fahrenheit
Description: Orange and yellow blossoms emerging from a one inch thistle-like green globe.
Botanical facts: Safflower is a member of the Sunflower family. Safflower is also grown for cooking oil.
Design notes: Generally used as a filler flower, Safflower blossoms can be used as an accent. Safflowers add texture to floral designs.
Purchasing hints: Purchase when half of the buds are open and half still closed.
Conditioning: Remove all foliage that will be below the water line. Cut under water with a sharp knife. Hydrate in a solution of warm water and commercial floral preservative / floral food for two hours before storage or usage.
Additional notes: Blossoms will last longer if most of the foliage is removed.