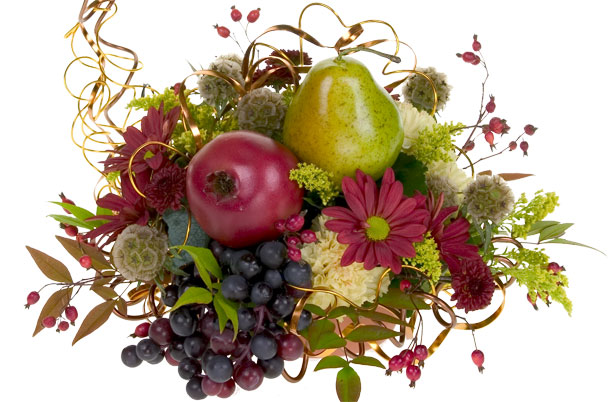 Contemporary Cornucopia
'Tis the time of year to gather with family and friends and give thanks. What better way to celebrate than with the symbol of abundance and plenty….the cornucopia. Update the classic design with fabulous metal wires and make a contemporary harvest cornucopia centerpiece, perfect for your Thanksgiving table.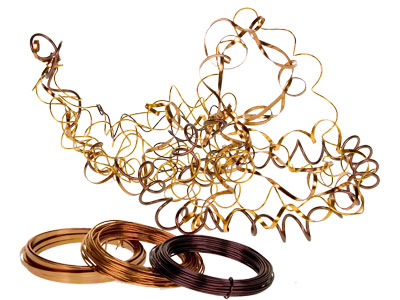 STEP ONE:
To create your contemporary wire cornucopia you will need three rolls of decorative wire. We used Oasis flat wire in gold and aluminum wire in copper & brown. To mold the wire, find a round "stick" to wrap the wire around. Anything smooth and round will work: A dowel, a piece of PVC pipe, or even a broom handle will do the job.
Once you have the perfect wrapping tool, create the coils. The wire is very pliable and easy to work with. Just coil the wire around until you are happy with the length, then side it from the handle, and stretch it out. Do this again and again until you have a pile of coils to shape into a cornucopia form. Do this by interlocking the different wires and twisting them around each other until you have a tail that flairs outward to an opening sized to fit your bowl.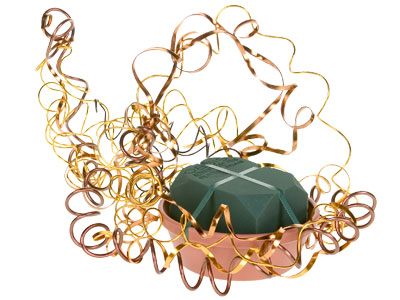 STEP TWO:
Once you have created your wire cornucopia, Soak and secure the foam in the bowl using waterproof tape. This will ensure the foam does not move while you are designing. Set the bowl in the opening and adjust your wire structure to fit. To make it easy, we have all your supplies ready in a Contemporary Cornucopia Kit - all you need to add are the fresh flowers!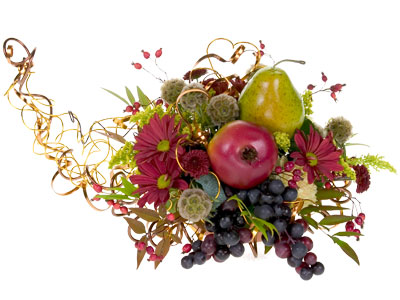 STEP THREE:
Now it is time to have fun. Choose your favorite fall flowers to create a festive floral centerpiece. We used fall colored mums, scabiosa pods, yellow standard carnations, solidago, a touch of fall leaves, and rose hips to really bring the feeling of autumn to the arrangement.
Don't forget to add fruit for a touch of the traditional in this contemporary take on a cornucopia. Trailing grapes, a fresh pomegranate, and a bright pear bring a harvest accent and pop of color to the plentiful cornucopia.
Thank you for sharing this Contemporary Cornucopia centerpiece filled with holiday harvest fruit and lovely flowers. If you would like to lean more, join us in the Classroom or Online and study the theories and techniques of design with the Floral Design Institute Instructors.
Supplies Used in Contemporary Cornucopia