Homecoming Corsages
Football season has begun. Could homecoming festivities be far behind? Look out! Those corsage orders will soon be stacking up on the design table.
Are you ready? With a little planning and preparation, homecoming can be grand fun. You might even make it to the game before half time. Browse through the following pages and we'll show you how to create easy and beautiful Homecoming Corsages.
Happy Homecoming Season to you all.
See you next week...
STEP ONE:
To create your DIY homecoming corsage, start with the basics. You just need two things in stock and you are good to go: Oasis Floral Adhesive cold glue and corsage bracelets from Fitz Designs.
Fitz bracelets are both beautiful and functional. Pepper black, sterling silver – these are must haves. Grape, sparkling licorice and bubble gum – mmmmm… luscious colors to start with.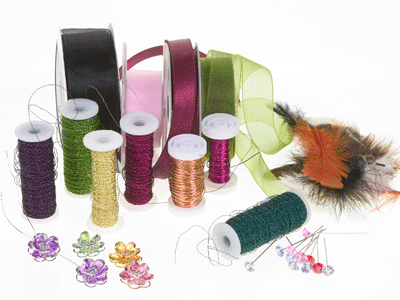 STEP TWO:
Gather all the treasures you have collected and you are ready to add style and pizzazz: Decorative wires, colorful ribbons, diamante pins, Lomey gems and feathers, of course!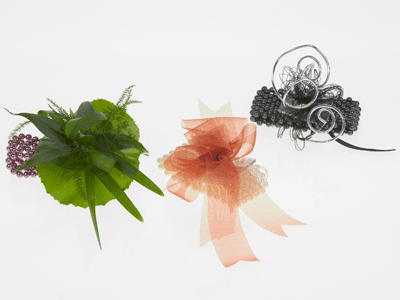 STEP THREE:
You can prepare for the homecoming weekend frenzy ahead of time by creating a decorative base for your flowers.
Foliage can be glued in place (pick sturdy, long-lasting varieties like galax, ruscus and ribbon grass), bagged and stored in the cooler for several days. A ribbon base is the easiest. Just tie up a beautiful bow and glue it into place. For a contemporary look, spirals of aluminum wire and tufts of bullion wire create a dramatic base for your fresh flowers.
Note: Be sure to use Oasis Floral Adhesive for all your glued corsages. Not all glues have the same "stickiness".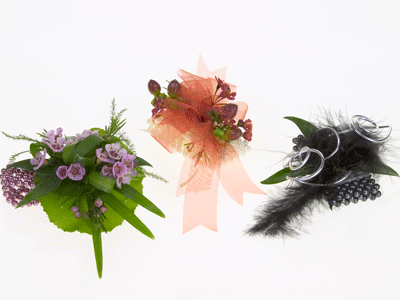 STEP FOUR:
Filler blossoms and fluffy feathers can enhance the base. Wax flower and hypericum are sturdy enough to prepare several days ahead. The more you do in advance, the better!
None of us like giving up our Friday night to sit at the flower shop corsage-ing until midnight. Been there – done that – there is a better way.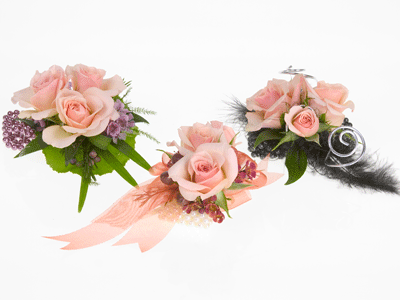 STEP FIVE:
Beautiful fresh flowers are secured in place last. Just think, the day before the homecoming dance you just need to glue on 3 petite roses – how long can that take? In minutes your corsages are complete.
And, smart florist that you are, the boxes are already prepared, labeled and ready to go. You'll be done in plenty of time to get to the game. You may even be able to park up close instead of down the way a mile or two with the latecomers.
STEP SIX:
Traditional Corsage
Traditional recipe:
1 Fitz Bracelet
2 galax leaves glued to the plastic tab
2 or 3 strands of lily grass
5 individual ruscus leaves.
3 sprigs of wax flower gives you interest and texture
3 blooms from a spray rose create the flowered focus
3 Lomey gems for fun – these make fabulous keepsakes to treasure long after the flowers are faded.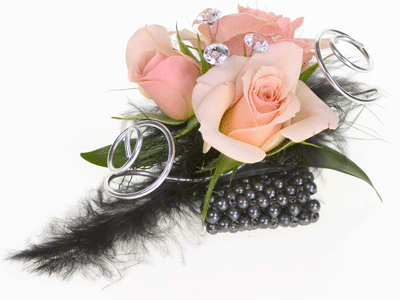 STEP SEVEN:
Contemporary Corsage
Contemporary recipe:
1 Fitz Bracelet
15" aluminum wire spiraled and swirled artistically
3 yards bullion wire wound and fluffed to create a tufted base for your flowers
3 feathers for light as air movement and texture
5 individual ruscus leaves.
3 blooms from a spray rose create the flowered focus
3 diamante pins for a bit of sparkle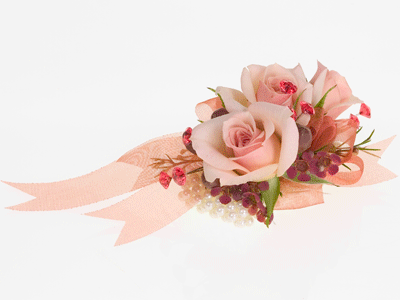 STEP EIGHT:
Romantic Corsage
Romantic recipe:
1 Fitz Bracelet
2 yards #5 sheer ribbon
3 sprigs of wax flower gives you interest and texture
3 blooms from a spray rose create the flowered focus
7 diamante pins for a bit of sparkle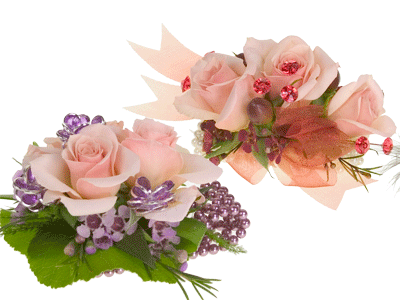 STEP NINE:
Traditional, Contemporary, Romantic and so much more. It is time to dig through your treasures and prepare for the grand fun of homecoming. A little planning now will make the big weekend both easy and profitable.
Of course, you will want to start with the finger exercises as well. I find dialing the telephone to chat with a friend is the perfect way to keep those fingers nimble – that and dipping a chip in salsa. Fine motor skills and multi-tasking – two exercises in one!
Supplies Used in Homecoming Corsages