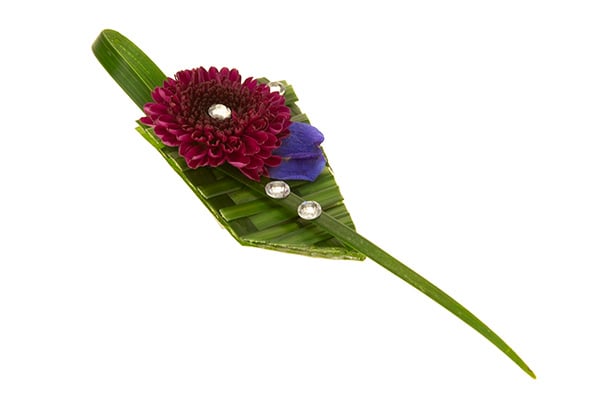 Modern Prom Wearable
Prom 2022 is on this year and the dates are coming up quickly on the calendar! For many schools, this prom will be the first in-person celebration in two years – and the first prom ever for some students – so flowers do play an important role in this rite of passage for young adults. In this step-by-step tutorial, FDI Instructor Michelle Headrick AIFD PFCI takes a few easy-to-find materials – lily grass, button poms, and a little bit of bling – and weaves them together into a modern prom wearable suitable for guys and gals alike. Best of all: this beautiful and fashionable piece requires no pins!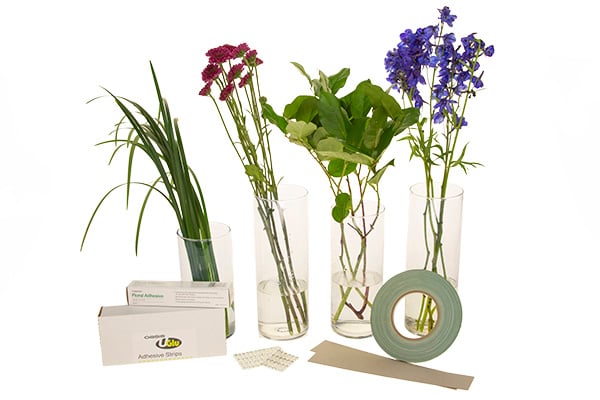 STEP ONE: Gather together all of your materials including UGlu strips, OASIS floral adhesive, and your favorite small flowers.
The full recipe appears at the bottom of the page.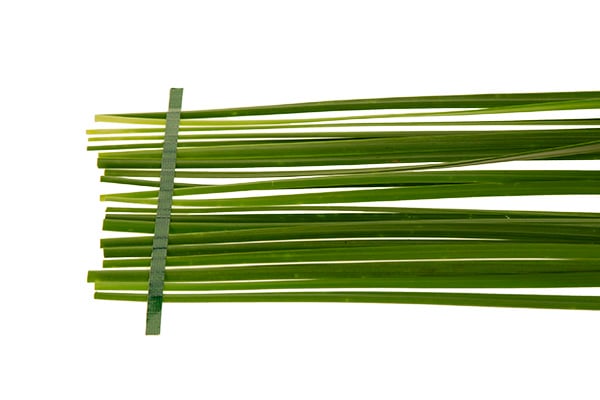 STEP TWO: Create the base for the wearable piece by laying 20 blades of lily grass face down and side by side. Secure them in place with a strip of waterproof tape.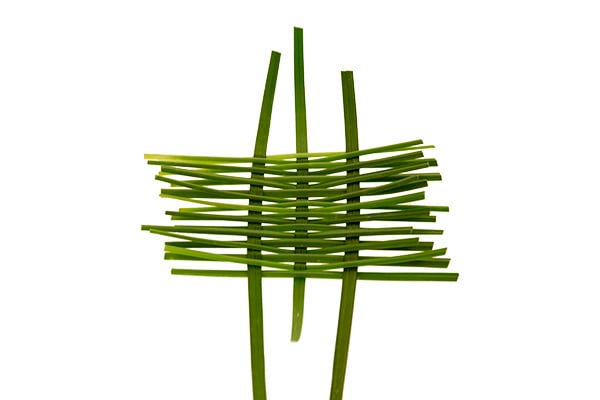 STEP THREE: Measure out about 6 inches from the tape and trim off the free ends of the lily grass. Begin weaving your cut ends through the already secured pieces of lily grass in an alternating over-under pattern. Tip: For creating multiple design bases at one time, leave the lily grass full length and use additional strands to weave through the design.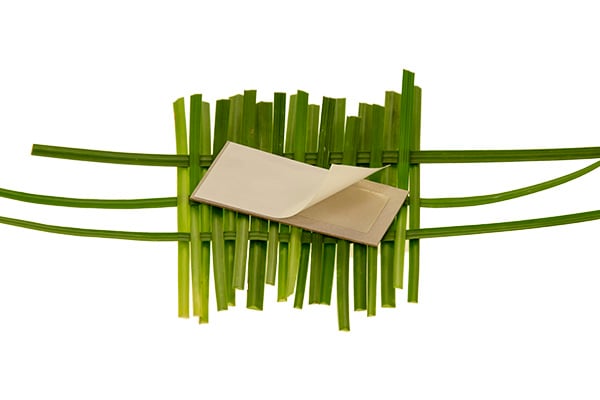 STEP FOUR: Once the grasses are woven to your desired length, use a UGlu strip to attach a length of cardboard to the woven mat to create stability for the flower base. Next attach an additional UGlu strip to the cardboard. For her design, Teacher Michelle chose a four inch piece of cardboard.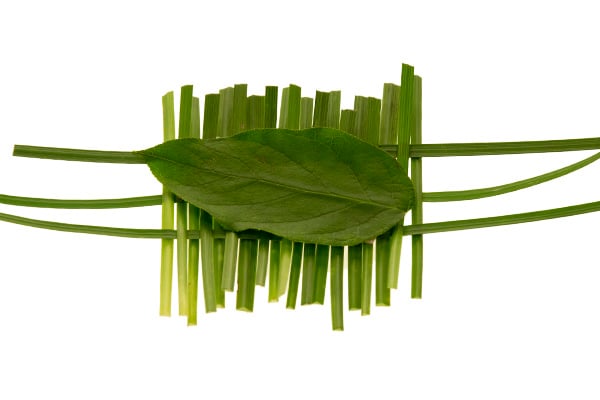 STEP FIVE: Trim the stem from a salal leaf and place it over the UGlu strip to conceal your mechanics on the back of the flower base. Any wide, flat foliage will work here: aspidistra, fatsia, or ti leaves are all excellent options.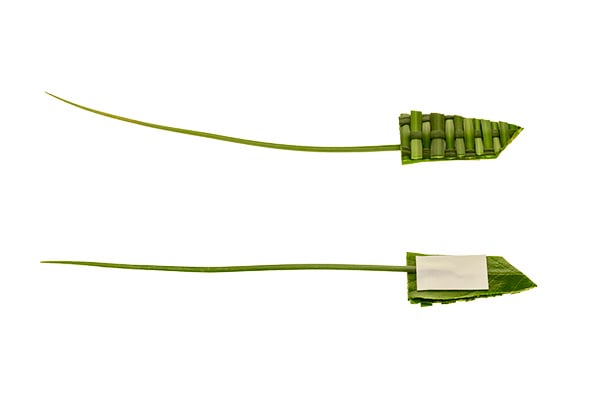 STEP SIX: Trim the base to your desired shape and attach a piece of lily grass (face up) to the back of the salal leaf with 1/2 of a UGlu strip. Do not remove the top piece of paper from this UGlu strip because it will be used to attach the design to the garment.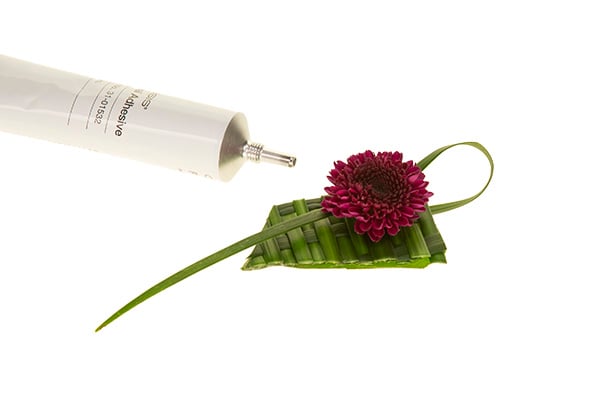 STEP SEVEN: Loop the lily grass over the front of the base and affix with a small piece of the remaining UGlu strip. Then dab a bit of OASIS Floral Adhesive and attach a single button pom.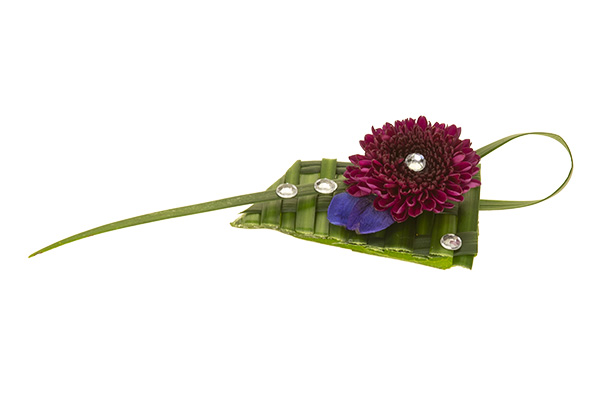 STEP EIGHT: Remove two small petals from a single floret and tuck them under the button pom, securing them in place with a small amount of OASIS Floral Adhesive. Teacher Michelle used petals from a single bella donna delphinium floret for this step. For fun, add sparkle to the design with a few self-adhesive rhinestones.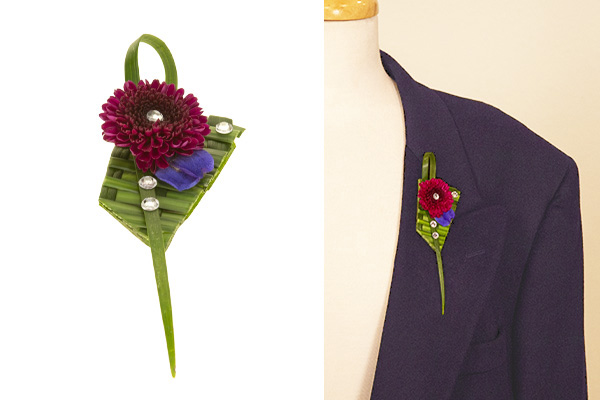 STEP NINE: Thank you to FDI Instructor Michelle Headrick AIFD PFCI for this unique and fabulous prom flower wearable. Her beautiful and modern design serves as a lovely and stylish floral piece that will complement any prom outfit. If you would like to learn more, check out Leanne's interview with Teacher Michelle in the Flower Lovers Club technique library. We hope you can join us in the Classroom or Online and study the theories and techniques of design with the Floral Design Institute Teachers.
Full Recipe
20 pieces of lily grass
One bloom of violet button pom
One bloom of dark blue bella donna delphinium
One large salal leaf (could substitute aspidistra)
Three OASIS UGlu strips
OASIS Floral Adhesive
OASIS Waterproof Tape
Cardstock or thin cardboard
Self-adhesive rhinestones
Supplies Used in Modern Prom Wearable