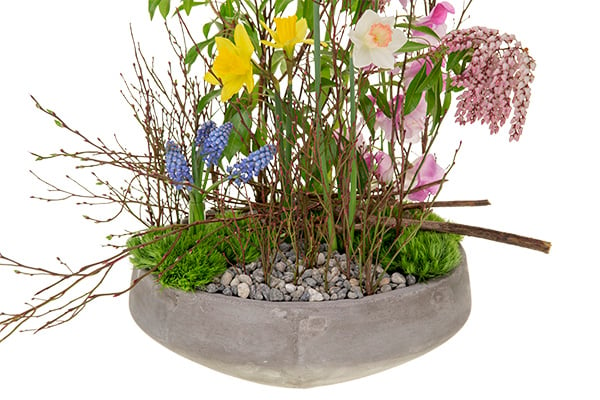 Vegetative Spring Design
I love springtime. I love the longer days and the warming temperatures. But, most of all I love the flowers, foliages and budding branches that are unique to the spring season. For this slide show we asked David Kesler AIFD to create a design in the vegetative style. This style of design requires a naturalistic composition in which plant materials are positioned as they would grow in nature. This is David's favorite design style and his finished design is spectacular.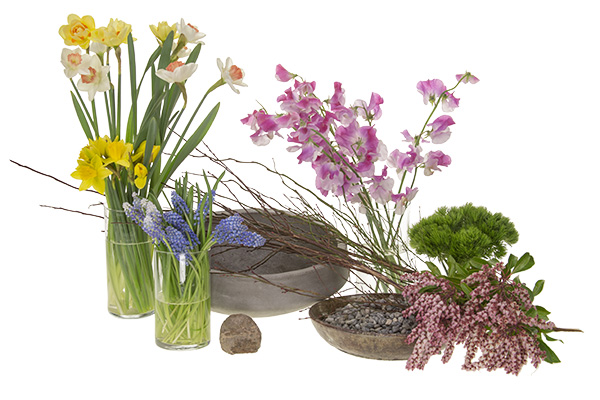 STEP ONE:
In the strict application of Vegetative Design, the flowers and foliages should be those found growing together in a particular environment with emphasis placed on climatic, seasonal, geographical and topographical compatibility. The floral materials chosen for this design include three varieties of daffodils, sweet peas, green trick dianthus, a single branch of andromeda and budding huckleberry branches.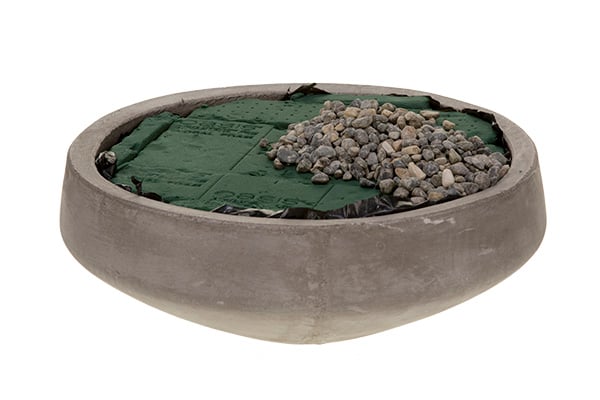 STEP TWO:
A shallow unfinished concrete container was chosen for this design. The container was lined with plastic then filled completely with floral foam. Pea gravel was chosen as a basing material.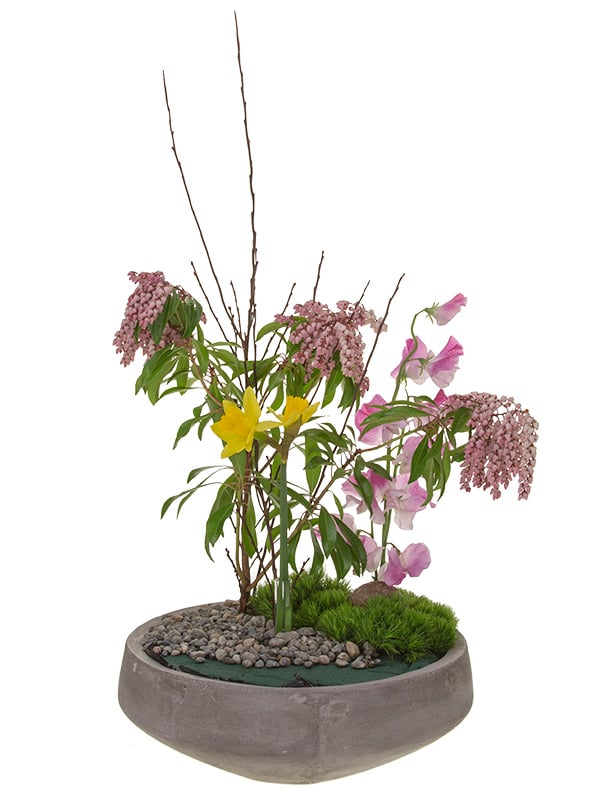 STEP THREE:
Green trick dianthus blossoms look like fresh moss and inserted tightly into the foam make a wonderful secondary basing material. (Yes, a creative liberty was taken in the use of the green trick dianthus as moss.) The huckleberry branches add a vertical line to the arrangement. The addition of a single rock surrounded by the base of dianthus adds interest to the design.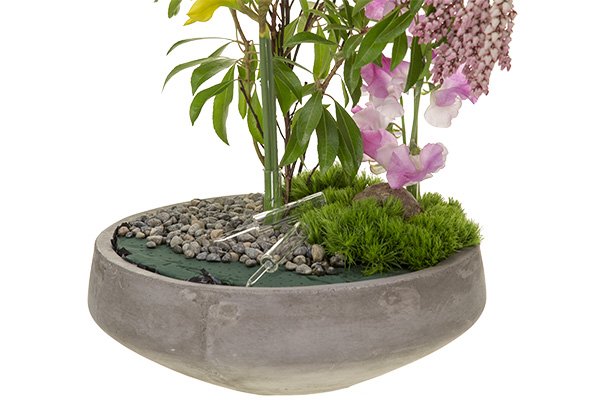 STEP FOUR:
The huckleberry and andromeda were inserted directly into the foam. The sweet peas and tiny daffodils were placed in needle vases which were then inserted into the foam. Needle vases are perfect for placing delicate stems in a floral arrangement. The only caution is that one must remember that the vases hold very little water and must be refilled frequently.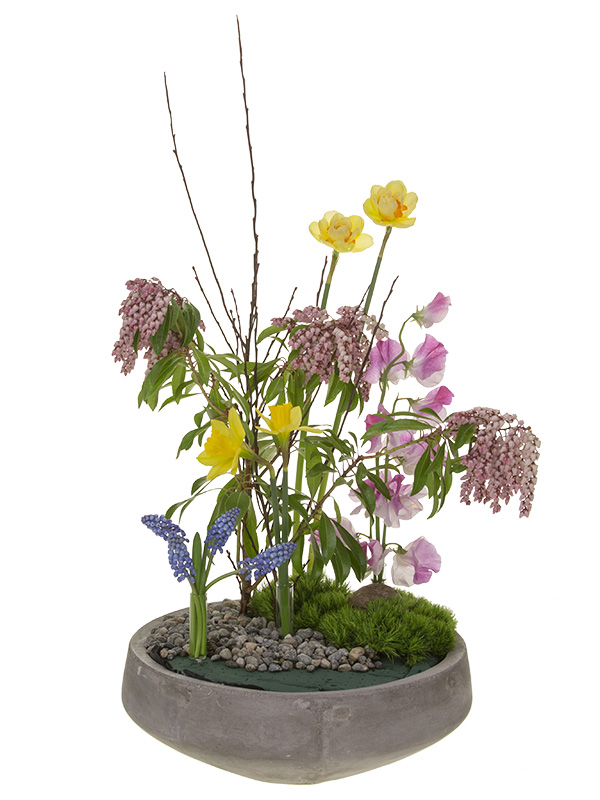 STEP FIVE:
Notice that the flowers are arranged in groups, very much as they would be found in nature.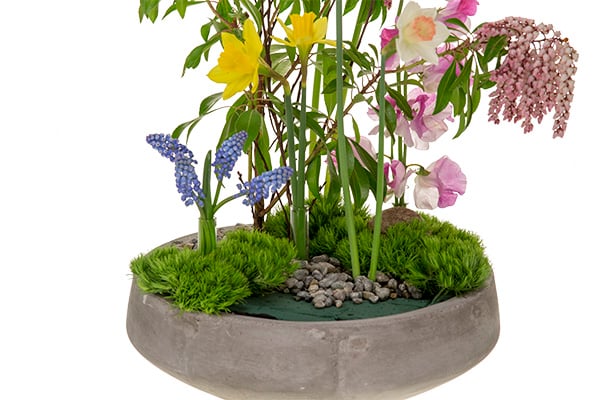 STEP SIX:
A needle vase with a cluster of muscari has been added to the design along with additional gravel and green trick dianthus.
STEP SEVEN:
The basing of gravel and dianthus is completed and the design is enhanced with a thicket of huckleberry twigs, much like one would find in nature.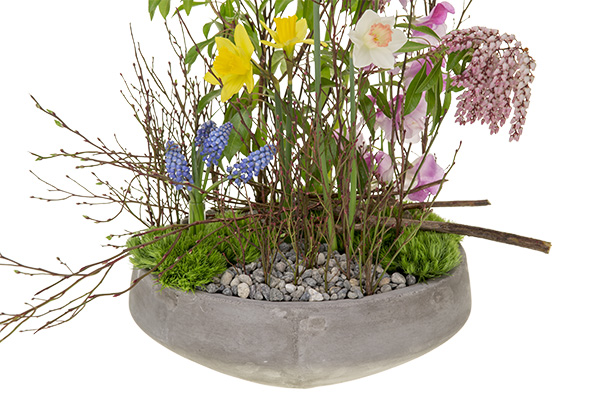 STEP EIGHT:
The addition of huckleberry branches inserted horizontally through the arrangement adds a dynamic line and completes the design.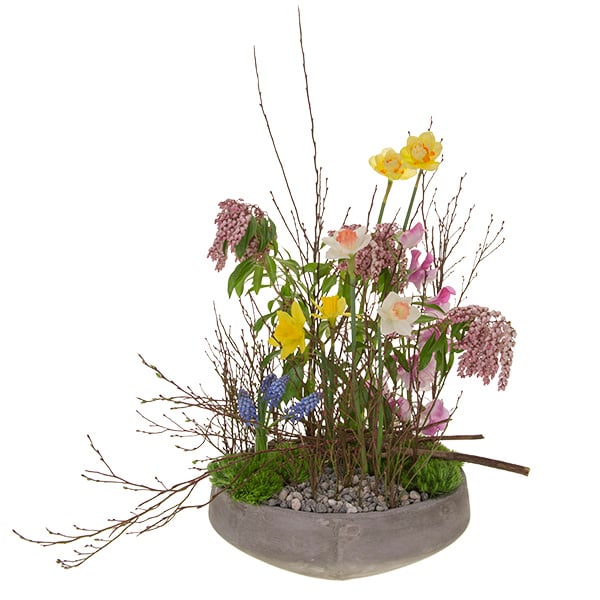 STEP NINE:
The finished design is a beautiful example of an interpretative vegetative design style.