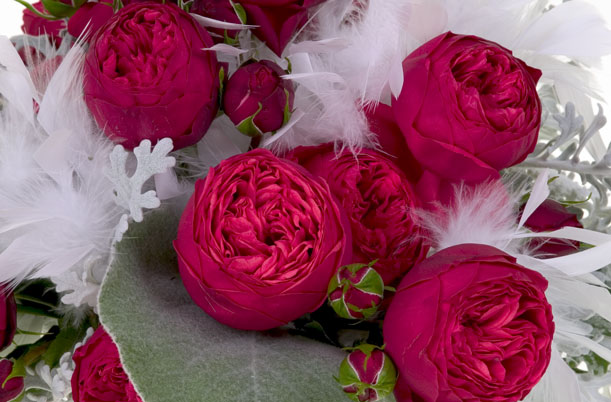 Vintage Valentine Roses
Vintage - a wonderful word to describe the Piano garden rose. So feminine, fragrant and long lasting it is perfect for the Vintage Valentine Rose arrangement. Paired with dusty miller and lambs ear...enhanced with feathers and jewels...oo-la-la! How I wish technology had evolved to a scratch-and-sniff computer screen. I promise you, the scent is fabulous!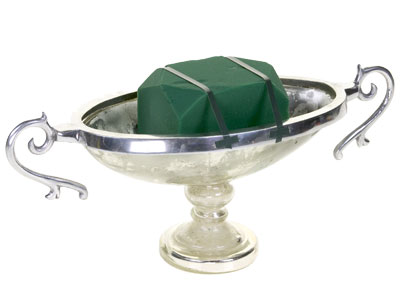 STEP ONE:
Elevating the roses just a bit with a mercury glass footed compote starts the design with a touch of elegance.
The mechanics: just two strips of waterproof tape anchoring the wet floral foam into place. (Don't forget to soak your foam with flower food!)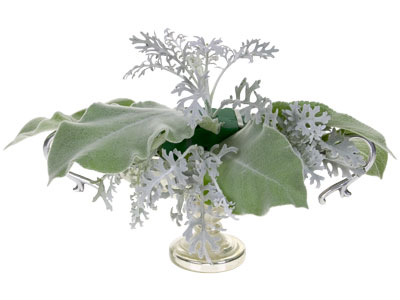 STEP TWO:
The velvety texture of lambs ear and dusty miller create a soft bed for the roses.
These two foliages just beg to be touched. (If you were watching me create the design, you would have caught me "petting" my flowers.) As you design, remember to work in a radial format and insert each stem well into the foam so they stay hydrated for the life of the arrangement.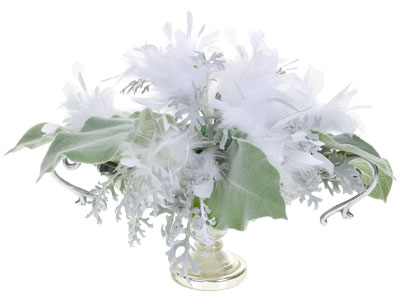 STEP THREE:
Time for a little frivolous fun! Fluffy white feathers taped onto an 18 gauge wire and tucked into the foam add delicate movement and a lot of femininity to the design.
Did you know, feathers come in a plethora of colors? Wouldn't this be fun with orange roses and pink feathers? Or, you could do dramatic black feathers with hot pink roses. The creative variations are endless!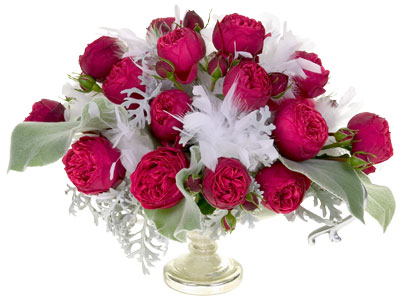 STEP FOUR:
At last, the star of the arrangement, vintage Piano roses! You can create a soft, oval form by inserting each rose into the foam in a radial format. Drape a few over the edge, tuck a few in deep to the center and let some peek up, above the feathery base. As always, the closer you can get the rose stems to the bottom of the foam, the longer they will last.
STEP FIVE:
Bejewel the finished arrangement with a pearls and rhinestones for a glamorous touch. These floral broaches are perfect. Or, visit a costume jewelry store and create your own.
For a gift-within-a-gift, add a necklace or earrings into the arrangement. The Vintage Valentine Rose arrangement is stunning. You can bet, this floral gift will end up photographed, shared, posted and instagram-ed. Oh, the fun of social media!
Supplies Used in Vintage Valentine Roses