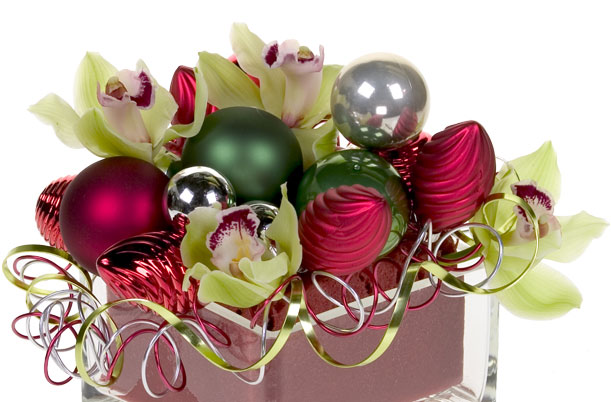 Curlicue Christmas
Let the holidays begin! It's the season for sparkle and glitz! Nothing is more fun than pulling out treasured decorations, gathering family and close friends, and taking time to "deck the halls". Curlicue Christmas uses just a few ornaments and blooms to add extra holiday charm that will last well into the New Year.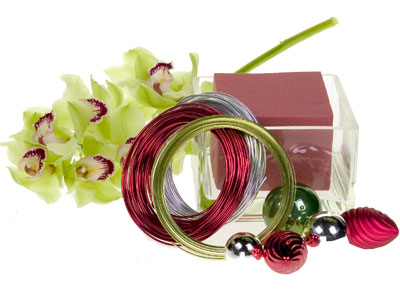 STEP ONE:
First you will want to gather your supplies. Ornaments of all shapes and sizes, mix and match colors for an eclectic Christmas look.
Next you will need one brick of the rainbow oasis floral foam; here we used the brick red; cherry or lime green would also work well. You will need Oasis Flat Wire in silver, and Oasis Aluminum Wire in red and green. A clear glass container in any shape or size will do and lastly a few bright cymbidium orchid blooms.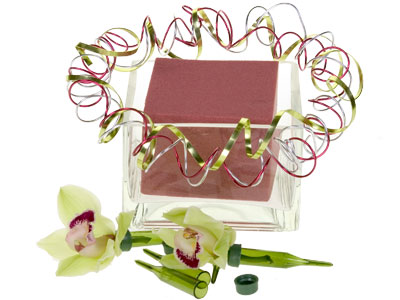 STEP TWO:
Place the rainbow foam so it sits snugly in the container. Create the curlicue wire wreath by coiling the wire and interlocking the sections to create a ring.
Once you have achieved the desired look, place the ring so it gently rests around the lip of the container. If needed, an extra piece of wire inserted into the foam will secure the wreath into place. Give the stems of the Cymbidium blooms a fresh cut and insert them into the water tubes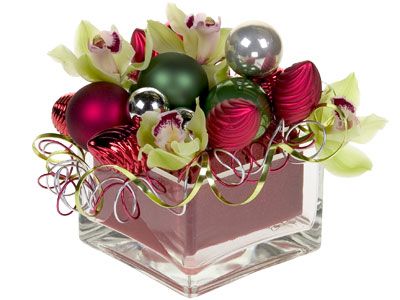 STEP THREE:
Arrange the ornaments to cover the top section of the exposed foam.
Once you are happy with the ornament placements, nestle in the orchids being sure that the water tubes are hidden, and you have a whimsical floral touch for your Christmas décor.
Supplies Used in Curlicue Christmas